Nato summit: Global media highlights issues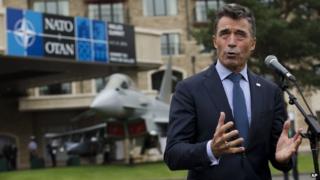 International media reaction and expectations for the Nato summit differ according to which of the issues on the table at the meeting in Wales most concerns them.
How to counter Russia's interference in Ukraine is the most pressing topic for European commentators, but to Middle East and South Asian writers, the questions of foiling Islamic State (IS) militants and "what next in Afghanistan?" are paramount.
The Russian press, conscious that the West regards Moscow as an aggressor in the events in Ukraine, is defiant. Yelena Chernenko in Kommersant feels Nato has been given a new lease of life. "In effect, the alliance is returning to its former Cold War task, that of containing Moscow," she says.
Meanwhile, Andrey Yashlavskiy in Moskovskiy Komsomolets views with some suspicion a Nato-organized multinational air exercise. "Who is Nato preparing its 'strike' for?" he wonders.
But for pundit Konstantin Sivkov, writing in Komsomolskaya Pravda, there is no doubt; comparing the US to an anaconda, he says "the snake's first loop tightened when the Warsaw Pact was destroyed; the second, when the USSR was destroyed. Now, they want to consolidate their success with separating Ukraine from Russia".
In Ukraine, commentators are less interested in the summit than looking at what new sanctions the EU will produce against Russia. However, Ukraine's private One Plus One TV channel says it is expected that the summit will "deepen partnership between Ukraine and Nato".
The press in Europe has also been debating about how to respond to Russia's actions in Ukraine.
Jacques Schuster in Germany's Die Welt demands that Nato find a "tough response" to Mr Putin's "policy of violence" that is "not aggressive but decisive", even stretching to military action as a last resort if necessary.
But Matthias Nass in Die Zeit praises President Barack Obama and Chancellor Angela Merkel for refusing to be sucked into Mr Putin's "military logic".
"Luckily, we don't have any hotheads in power," he says.
In France's Le Monde, Alexandre Melnik suggests simply welcoming Ukraine into Nato to counter Russian "expansionism", as "force is the only method Mr Putin understands".
Jacques Hubert-Rodier in France's Les Echos thinks Ukrainian President Petro Poroshenko may be disappointed by what the summit may offer him as "the means at Nato's disposal are limited".
And a headline in France's Le Figaro opines: "Washington pushes Nato towards showdown with Russia."
But in Lithuania - fearing an internationally resurgent Russia - Andrius Uzkalnis comments in Diena that European leaders' "polite scolding" has only taught Mr Putin that "the only wrong way to behave is gently". "As usual, the United States is the only one who can help and protect us," he concludes.
In Turkey, the Daily Sabah expects "that the alliance will have its most crucial meeting since the end of the Cold War". The paper also anticipates that Turkey's "contribution to addressing the Isis (IS) threat will be one of the major issues" in talks between President Erdogan and other leaders on the sidelines of the summit.
Others in the region agree. Alon Pinkas in Israeli daily Yediot Aharonot notes that "on the face of it, the central issue is the crisis surrounding Ukraine. In fact, all the eyes will be on Isis".
Boaz Bismuth in Israel's Yisrael Hayom does not expect much from the summit. "The West is sleepy and lives in wishful thinking, meanwhile extreme Islam is writing one of its darkest chapters", he says.
However, a brighter future is foreseen by Afghan daily Hewad. "This summit is of great importance for Afghanistan... the heads of the Nato member countries will make historic and key decisions on Afghanistan."
BBC Monitoring reports and analyses news from TV, radio, web and print media around the world. For more reports from BBC Monitoring, click here. You can follow BBC Monitoring on Twitter and Facebook