Top showjumping horse was sold for one euro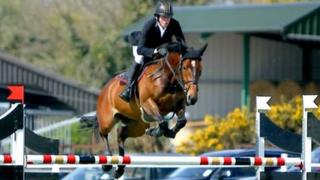 An unwanted horse that cost its new owner just one euro (80p) has been selected to represent Ireland at an international showjumping competition.
Geraldine Graham, from Lenamore Stables in County Donegal, bought the mare from a friend who could no longer look after the animal because of its poor health.
The horse, renamed Lenamore Lucy Lou, was nursed back to fitness and is now worth tens of thousands of euros.
Later this month, the mare is due to compete in a world contest in Belgium.
'Couldn't cope'
Ms Graham bought the young horse about two years ago from a friend in County Cork, who was having difficulty caring for the mare because she had a severe allergy to midges, known as sweet itch.
The new owner said that at the time of the transaction, the animal's body was covered in sores and pus and she was "very nervous" and "really, really difficult to work with" due to her condition.
"The man said he couldn't cope any more, she was too difficult and he just didn't want to be involved, and I said 'that's great, super, I'll have her'," Ms Graham added.
"They were giving up on her and they just wanted rid of her," she told BBC Radio Foyle.
"An old friend of mine told me 'never take anything for nothing'. So, I put my hand in my pocket and I took out five pounds sterling in Cork."
Ms Graham said the man took the £5 note but gave her back five euros (£4).
"In actual fact, she cost me the difference. It was probably one euro at that time, but it was really just the gesture," she added.
Lenamore Lucy Lou was taken back to the family-run stables in Muff, County Donegal, where Ms Graham washed her repeatedly, fed her garlic and helped to rid her of the sores.
Ms Graham's then 17-year-old son, Kenneth, helped to train her as an international showjumper.
'Nervous'
She credits her son's patient and "sensitive" treatment of the anxious animal for the mare's development as a top competitor.
"I thought she was going to be a lunatic, and so she was" Kenneth Graham told BBC Radio Foyle.
"She was very difficult at the start, but she came through, with patience. She was just nervous.
"It was all new to her, I suppose, being handled and it took a lot of time, slowly getting used to her.
"She enjoys the attention now and loves being spoiled," he added.
Mr Graham, now 20, is due to ride Lenamore Lucy Lou in the competition in Belgium within weeks.
The pair will represent Ireland in the Fédération Equestre Internationale (FEI) World Breeding Jumping Championships for Young Horses, which takes place from 17 to 21 September.
'Phenomenal'
It is not the first time the horse has been abroad for international contests.
Ms Graham said at the beginning of this year's showjumping season, they took the mare to Belgium and France, where she was placed among the runners-up.
"In the lead-up to the Young Horse Championships, she only went to four of the seven qualifiers and she led the whole way," she added.
The Donegal breeder said she is still in contact with her good friend who sold her the mare, and added that the previous owner was very pleased for her, and has not offered to buy Lenamore Lucy Lou back.
"It's just one of those nice stories, and they're happy with me, because in this industry it's very difficult to buy a top horse," Ms Graham said.
"I haven't got the money and to produce one yourself, from as little as a euro, is quite phenomenal."