Wine: French 'know little' about national drink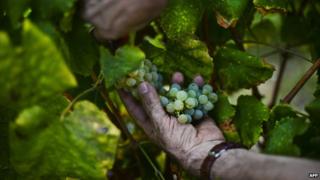 More than two-thirds of French people feel they do not have a good knowledge of wine, a survey in a French wine magazine suggests.
Wine is France's national drink, and the country is considered by many as the heartland of wine production.
But 71% of those who responded to the survey said they they did not have "a lot" of knowledge about wine.
Polling company Viavoice questioned 1,015 adults between 28 and 30 May for the poll, published in Terre de Vins.
According to the poll, social class appears to have an influence over wine appreciation, with 43% of white-collar workers in the survey claiming to be connoisseurs. Just 16% of blue-collar workers regarded themselves in a similar vein.
Viavoice said this showed a "very elitist" approach to wine in France - but might also indicate household budgetary pressures.