Ethem Sarisuluk: Turkey policeman Ahmet Sahbaz jailed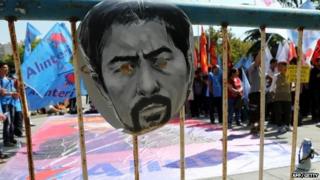 A Turkish police officer has been sentenced to nearly eight years in jail for killing a protester during last summer's anti-government demonstrations in the capital Ankara.
Ahmet Sahbaz shot 26-year-old Ethem Sarisuluk in the head on 1 June 2013.
The demonstrations came amid violent nationwide protests sparked by controversial plans to redevelop Istanbul's Gezi Park.
In court, the victim's supporters decried the verdict as too lenient.
Angry scenes erupted as protesters shouted "murderer state" following the sentence of seven years and nine months being announced, an AFP reporter in Ankara said.
The trial was being seen as a test of the authorities' willingness to prosecute police brutality, correspondents say.
A wave of demonstrations and civil unrest began in Turkey on 28 May 2013, initially to contest plans for the redevelopment of Istanbul's Taksim Gezi Park.
Subsequently, following a hardline police response, they turned into mass rallies protesting against the policies of then Turkish PM Recep Tayyip Erdogan.
In June this year, thousands of Turkish riot police used tear gas to disperse demonstrators in Istanbul and Ankara who were marking the first anniversary of the Gezi Park protests.