Mother back in France with baby 'taken to Syria'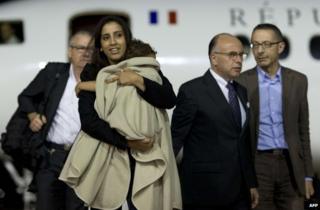 A young mother has returned to France from Turkey with her infant daughter after the child was reportedly taken to Syria by her estranged husband.
Meriam Rhaiem, 25, arrived at an air base near Paris on a plane chartered by the government and was welcomed by Interior Minister Bernard Cazeneuve.
Her husband, said to be a would-be jihadist, is in custody in Turkey. The reason for his detention is unclear.
Meanwhile, a suspected jihadist has been arrested in the Netherlands.
A 29-year-old man from The Hague was arrested in the Dutch city on Tuesday after returning from Syria where he had allegedly fought with jihadist fighters.
Nine EU states adopted an action plan in July to identify people travelling to Syria and stop them falling into terrorism on their return.
Belgium, France, Germany, the UK, Spain, Italy, Denmark, Sweden and the Netherlands signed up to the plan.
'In danger every day'
Ms Rhaiem emerged from the plane at Villacoublay air base at 02:15 (00:15 GMT) on Wednesday, clutching her infant daughter Assia, who was wrapped in a blanket.
She had made headlines in March with an emotional appeal to the French authorities to recognise her baby girl as "the youngest French hostage".
Earlier, she said she was certain her French husband, who is wanted under an international arrest warrant, was in Syria seeking to join jihadists.
He was arrested last weekend with Assia in Turkey, a French interior ministry source told AFP news agency.
Assia's father had failed to bring his daughter home after spending the day with her in October last year, and had left France by road bound for Turkey, the agency adds.
He had also allegedly said he planned to cross into Syria with their daughter to join the al-Nusra Front group.
Mr Cazeneuve told French radio the father "had taken this child into the theatre of jihadist operations in Syria", saying she was "in danger every day".
Ms Rhaiem is in the process of divorcing her husband.
Dutch arrests
The man arrested in The Hague is suspected of having fought with jihadists in Syria and also faces charges of possessing seditious material.
Two couples suspected of planning to travel to the Middle East to join the militant group Islamic State (IS) were detained in the Dutch town of Huizen at the weekend and their six children taken into care.
Separately, a 32-year-old Dutch national of Moroccan origin, Azzedine Choukoud, was arrested last Thursday along with his second wife Iman Bourrarasi, 24, in southern Germany while a third suspect, 24-year-old Islamic convert Rudolph Holierhoek, was detained in The Hague. It was not immediately clear what charges they faced.
According to Dutch newspaper De Volkskrant, Mr Choukoud is one of the best-known radical Muslims in the Netherlands. He went on a Dutch TV channel in June to praise IS, the paper says.
More than 100 Dutch citizens are thought to be fighting for various groups in Syria and Iraq, and hundreds more have been identified as potential jihadists.