Irish exotic pets appeal after raccoon captured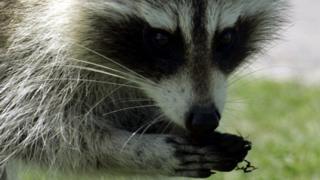 The Irish public has been asked not to buy exotic pets after a raccoon was captured in a County Dublin garden.
The male raccoon, native to north America, had escaped from its enclosure in a neighbouring property.
Animal protection officers said the raccoon was "hungry and threatening a small dog".
Exotic animals can be bought and sold freely in the Republic of Ireland under the current 1911 animal welfare legislation.
However, the Dublin Society for the Prevention of Cruelty to Animals said: "These animals are often sold to people with little or no understanding of the care needed to look after them."
The DSPCA appealed to the public not to buy exotic pets.
It said the internet is an easy source of exotic pets and added: "We cannot continue to have exotic animals bought and sold without any form of licence".
The DSPCA also said that raccoons have the potential to become invasive in Ireland if they escape or are released into the natural environment.