EU's Mogherini calls for Nato muscle in Eastern Europe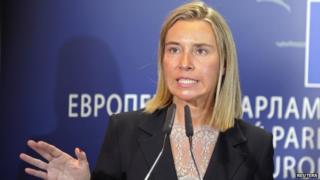 The newly designated EU foreign affairs chief, Federica Mogherini, says Nato countries bordering on Russia need more than a paper pledge that Nato will help them in a crisis.
Ms Mogherini, currently Italian foreign minister, said such countries "need to be sure that Article Five is not just a written text".
The article commits all 28 Nato states to defend any member that is attacked.
Nato is planning a rapid response force to deter possible Russian aggression.
A major Nato summit will open in Wales on Thursday, where the conflict in eastern Ukraine and Russian support for the separatists there will be high on the agenda.
Ms Mogherini said the European Commission would finalise a new package of EU sanctions against Russia by Friday. When she takes up her new post on 1 November she will also be a vice-president of the Commission.
At a special summit on Saturday, EU leaders gave Russia a week to reverse its military intervention in Ukraine or face further sanctions.
Russia denies that it has troops and heavy weapons inside Ukraine helping the rebels, who have pushed back the Ukrainian army in several areas.
Some European politicians have voiced concern that Ms Mogherini may be too soft on Russia. That allegation surfaced again when she was questioned by European Parliament members on Tuesday.
She is in the European centre-left bloc and a key ally of Italy's Prime Minister Matteo Renzi.
She told the MEPs that "Russia stays a strategic player in global challenges, but I don't think it is a strategic partner anymore".
When questioned about other EU foreign policy issues Ms Mogherini said:
EU enlargement remains a core project, because it helps to stabilise states in the EU's neighbourhood - she said continuing enlargement is "not just our interest, but our duty"
Jordan's social stability is an example of how countries in the Middle East can counter the spread of Islamic State (IS) militants - "sometimes the stability of society itself is the best antidote"
The fight against IS "has to be strong also in Syria, but that doesn't mean co-ordination with [President Bashar al-]Assad"
It would not be a good idea for the Kurds in Iraq to hold a referendum on independence - Iraq needs unity
The EU must have a wide-ranging dialogue with the Libyan parliament to try to stabilise the country - "we can't play one party off against another".
EU enlargement - the next seven