Naked 'selfies': Swiss parliament secretary loses job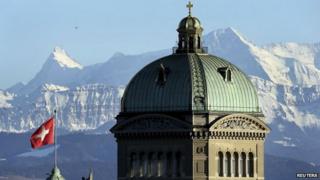 A secretary at Switzerland's parliament has lost her job for posting naked photos of herself on the internet.
The woman, who has not been named, posed for several explicit "selfies" in her office and posted them on Twitter.
The Swiss parliament said the woman's employment was ended by mutual consent after the reputation of parliament was put "at risk of being tarnished".
Officials launched an inquiry when someone noticed the pictures had been taken in the Federal Palace in Bern.
A statement released by parliament on Monday said it was in the interest of both parties to terminate her contract because she could not have resumed the normal responsibilities of her role.
Last week, the woman told Swiss newspaper Neue Zuercher Zeitung (NZZ) that she did not think the images had broken any rules.
Despite posting them to her account on social networking site Twitter, which had 11,000 followers, she said they were part of her private life.
But in its recommendations to staff, the parliamentary personnel office says employees should only publish pictures or text online that they would be comfortable showing their colleagues or superiors.
Asked how she would feel if her colleagues had seen her explicit images, the woman told NZZ: "The issue is on my mind constantly".
It is unclear why she decided to post the images on the internet.