Jimmy Carter calls for change to Irish prostitution laws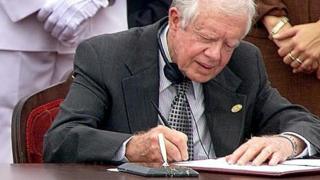 A former US president has urged Irish lawmakers to "take the lead" in reforming prostitution laws to target those who buy sex rather than sell it.
Jimmy Carter has written to the Irish Parliament calling for legislation to "end the exploitation, abuse and trafficking of women and girls".
He asked members to criminalise "pimps and buyers of sex for prostitution instead of the prostitutes".
He said a public trial for buying sex would be an "effective deterrent".
Mr Carter, who served as US president from 1977 to 1981, sent the letter last week, addressed to all members of the Houses of the Oireachtas (Parliament).
In his correspondence, he described prostitution as "inherently violent towards women and girls" and urged lawmakers to legislate to help those trapped in the sex trade.
He said the Irish Parliament had made "significant progress" towards introducing new legislation, which had been recommended by the Oireachtas Justice Committee last year.
Mr Carter said he was "particularly encouraged by the unanimous political support for such measures" but noted that 12 months had passed since the recommendations were made.
"The recommendations of the committee offer an opportunity for Ireland to take a lead in this important issue and inspire others to follow," Mr Carter wrote.
The former president added: "There is little doubt that public exposure in a trial and the imposition of a fine or jail time for a few men who are prominent citizens or police officers who were buying or profiting from the sex trade would prove to be an extremely effective deterrent."