German Eurosceptic party AfD wins Saxony state seats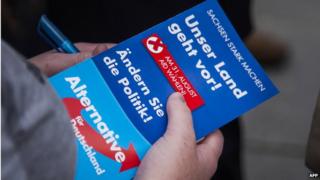 Germany's newest party, the Eurosceptic "Alternative for Germany" (AfD), has won its first seats in the state parliament of Saxony, according to preliminary results.
Chancellor Angela Merkel's Christian Democrats won the vote with 39.5% according to exit polls.
The AfD, which says it is anti-euro (the currency), rather than anti-Europe, won around 9.6% of the vote.
Eurosceptic parties made large gains in the European elections in May.
The projected results from Saxony, a state in eastern Germany, indicate a much more successful showing at the ballot box than had been predicted.
The BBC's Damien McGuinness in Berlin says this is the first time that an anti-euro party has won seats in a German state parliament - which is big news in a country where support for the European Union is traditionally strong.
The AfD appeals to some conservative voters who think that Angela Merkel has moved too far to the centre, he adds.
The new party, which is one year old, entered the European parliament in May's elections, calling for the breakup of the euro and campaigning against bailouts for southern European countries.
However the party is seen by some as being controversial, accused of catering to nationalist sentiment and attracting right-wing extremists, our correspondent adds.
Angela Merkel, whose party sits on the centre-right, has ruled out any future coalition with AfD.