UNESCO applauds GAA's role in youth development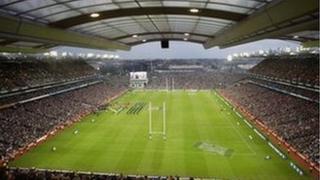 UNESCO has praised the Gaelic Athletic Association (GAA) for its role in youth development.
A meeting of the United Nations organisation in Dublin discussed the importance of sport to young people.
Prof Mark Brennan from Penn State University described the GAA as "a true grassroots organisation".
"It empowers, involves and invigorates not just individual young people but their families and wider communities," he said.
Prof Brennan, who is UNESCO chair in rural community, leadership, and youth development at Penn State, said other countries could learn from the GAA's model.
Thursday's meeting at the GAA's Croke Park headquarters agreed a declaration for "all youth worldwide to receive the attention needed for them to be empowered to take ownership for their lives and development of their societies".
The declaration will be read out at half-time during the American football match between Penn State and University of Central Florida at Croke Park on Saturday 30 August.