Ukraine conflict: Russian families look for soldier sons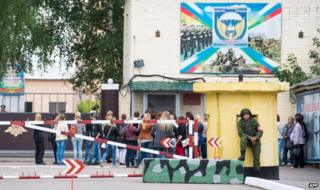 Accusations of Russian involvement in the fighting in eastern Ukraine are nothing new, but now they are accompanied by a growing concern from relatives of Russian servicemen unable to locate them or, in the worst cases, having to receive their bodies.
In Kostroma, north of Moscow, relatives of those serving with the elite 98th Airborne division headed to their base on Thursday trying to find out where their relatives were.
The soldiers were last known to be flying on manoeuvres.
This is the same unit from which 10 Russian soldiers were captured in Ukraine earlier this week.
A man introduced as a "representative of the unit" said the unit's soldiers were still in Russia's Rostov region - which borders the fighting-ravaged regions of eastern Ukraine - and would make contact with their families on 31 August.
But if local residents of Kostroma are to be believed, for some soldiers it may be too late.
Valeria Sokolova, the wife of one of the paratroopers, told AFP news agency that coffins with the bodies of local servicemen had arrived in the town on Wednesday. There is no independent confirmation.
So far there are two confirmed sightings of funerals of servicemen deployed to Rostov.
Two freshly dug graves were discovered this week near the north-western town of Pskov, home to another well-known paratrooper division.
They belong to 29-year-old Leonid Kichatkin and Alexander Osipov, aged 20. According to the inscriptions on the gravestones, they died on 19 and 20 August.
Correspondents who visited the cemetery on Tuesday, the day after the funeral, were pelted with stones and the tyres of their car were slashed.
"Apparently, someone is keeping a close watch over this cemetery," said Vladimir Romensky of TV Rain.
Local journalists' attempts to meet relatives of the dead soldiers had to be aborted after threats from a group of aggressive men.
Similar threats were issued to a Reuters correspondent the next day.
So far, there has not been any official explanation of these two deaths. The plaques with the soldiers' names were later removed from both graves.
The long-rumoured involvement of Russia's military in Ukraine tallies with the reports of a sudden loss of contact between soldiers and their relatives, posted on social networks, websites and regional media.
Added credibility comes from a network of NGOs called the Committee of Soldiers' Mothers, which has been at the forefront of defending soldiers' rights ever since the Russian wars in Chechnya in the mid 1990s.
Lyudmila Bogatenkova, the head of the Soldiers' Mothers branch in Stavropol in southern Russia, claimed on Wednesday that it had a list of 400 names featuring many wounded and dead soldiers.
Many are from units normally stationed in Chechnya and neighbouring North Ossetia, she says.
There are also reports of several funerals of soldiers in another republic in the northern Caucasus, Dagestan.
The source of the list has not been disclosed - and no official comment has come from Russia's defence ministry.
Some activists are more outspoken than others.
Ella Polyakova, the head of the Soldiers' Mothers branch in St Petersburg, claimed on Wednesday that many military hospitals in Rostov had received a lot of wounded soldiers over the past few days.
She is also a member of the Presidential Council of Human Rights and has logged an appeal to Russia's Investigative Committee, demanding they investigate reports of nine casualties from the northern Caucasus.
She also said she would demand an inspection of military hospitals in the south of Russia.
By contrast, her colleague in Dagestan was far more reluctant to talk, refusing to discuss the reaction of relatives to news of possible casualties from her region.
When contacted by BBC, Zulfia Magomedova said Russia was not involved in fighting in Ukraine and anyone there from Dagestan was a volunteer.
This echoes the statement from Donetsk separatist leader Alexander Zakharchenko, who acknowledged that Russian soldiers were involved, but only those on vacation.
Anyone with experience of serving in the Russian army is very sceptical that such "holiday trips" are possible. Soldiers and officers would have to notify their superiors about any trip abroad and request their passports, which are normally confiscated for the duration of their service.
But then, illegally crossing the border near Rostov probably wouldn't need a passport anyway as Ukraine has no control there.
A founder of Soldiers' Mothers, Valentina Melnikova, says such "vacations" are nothing new and were first discovered in late November 1994, when Russia was trying to quell resistance in Chechnya.
A group of elite storm troops captured by Chechen fighters was discovered at the time to be on leave from active duty.
Ms Melnikova told the BBC that investigations into the cases of soldiers suddenly going quiet were hampered, possibly because many soldiers' families are afraid to speak.
For years public appeals by the NGO have been the only way to launch an investigation, she says.
"Don't be afraid to say their names and their units," she urges relatives.