Ukraine crisis: Luhansk firm moves factory to Russia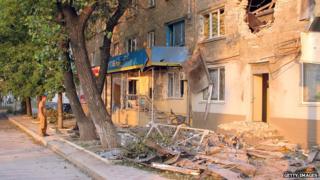 A Ukrainian firm has moved the contents of its engineering factory from the war-hit city of Luhansk in eastern Ukraine to central Russia.
An official told Russian TV they left because of the violence, and because their customers were mostly in Russia.
Rebel-held Luhansk has been under siege for 25 days and is struggling with power and water supplies.
There was no indication of how the contents of the Luhansk machine-building plant had been moved.
But the company said it had initially considered relocating to a neighbouring region of southern Russia.
"We drove around Rostov region, visited six enterprises but there are so many refugees," the firm's technical consultant Nikolai Druziev told Russian TV.
"Then we decided to go to central Russia, further inland, especially as we had contacts there."
The report said they eventually settled in the Chuvashia region, on the Volga river west of Kazan, and hoped to resume production soon.
Most of the factory's staff are also being moved. Twenty-three workers and their families arrived in central Russia almost a month ago, Russian TV says.
The revelations emerged after Ukraine claimed a Russian aid convoy had been used to move equipment from a factory that made parts for helicopter engines.
Officials said factory thefts were being carried across rebel-held areas.
The government in Moscow sent 200 lorries into Ukraine last week without Ukrainian permission and said on Wednesday a second convoy would be sent in the near future.