Ebola reports: Dessie Quinn did not have Ebola say health authorities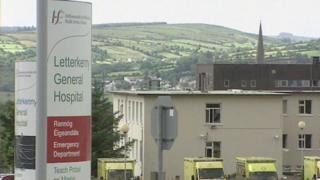 An Irishman who died after recently returning from Sierra Leone did not have the Ebola virus, health authorities have confirmed.
Dessie Quinn, from the Mountcharles area of County Donegal, died after he suffered what were described as Ebola-like symptoms.
On Thursday, the Health Service Executive (HSE) said they were testing his body for the disease.
The HSE have confirmed that the results show no signs of the virus.
"Infection control procedures, which had been put in place as a precautionary measure, will now be stepped down," a statement said.
Mr Quinn had worked as an engineer in Sierra Leone for Dublin-based firm KN Network Services.
'Sorrow'
The company said they returned all their staff from Sierra Leone last Saturday as "a precaution" and screened all employees for Ebola when they left.
A spokesperson said there were no positive tests or signs of symptoms from any of the staff.
In a statement, the company said: "The management and board of KN Network Services express their deepest sympathies and sorrow to the family and friends of the late Dessie Quinn following his untimely death.
"Dessie was an extremely hard working and valued member of staff and was very popular with all his colleagues and he will be missed by everybody who worked with him."
Earlier, a priest who had spoken to the Quinn family said they had first heard about a possible link to Ebola through the media.
Fr Adrian Gavigan said the family were "very annoyed" at not being told about tests for the virus.
'Angry'
He said Mr Quinn had been treated for malaria.
"They are grieving. They have lost a son, a brother. In its own way, that is very hard to take when there is a sudden death.
"However, this was the first time they had heard of this news. He was a young man being treated for malaria for a number of weeks.
"I am very angry and think it was very impersonal for the HSE to release a statement without giving the family any warning."
The HSE said it was in contact with some family members "from the outset of the tragic situation" on Thursday.
"The story broke in the media just before 6pm yesterday, at which point the HSE had to make a public statement on the matter, given the urgency and nature of a public health issue such as this.
"The HSE has expressed its sincere condolences to the family for their loss.
"It is important to note that the HSE, at no point, identified or named any individual.
"Any comment made by the HSE sought to protect the confidentiality of the individual and their family - our statement did not say whether the deceased individual was male or female or what part of Africa they had returned from."