Russian sanctions: French pate returned to Finland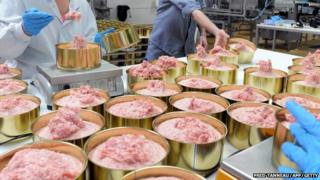 A group of Russian tourists has failed in their attempt to bring home French pate from abroad, unaware they were flouting Moscow's new food sanctions.
They were returning by car from Finland with 70kg (150lb) of French pate when they were stopped at the border.
Customs officials confiscated the pate and sent it back to Finland.
Russia has banned EU and US food imports in response to Western sanctions over Moscow actions in Ukraine.
The food sanctions apply to meat, poultry and dairy products from the EU, Australia, Canada, Norway and the United States.
Only products for personal consumption up to a weight limit of 5kg will be allowed as an exception, Russia's food and livestock watchdog says.
The body has reported a number of similar incidents recently.
The restrictions on foreign food imports will remain in place for a year, Russia's Interfax news agency has been quoted as saying.