Klaus Zapf: German millionaire who shunned wealth dies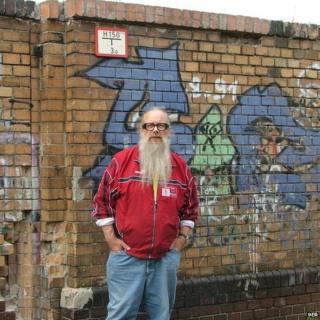 Klaus Zapf, a German millionaire and removals entrepreneur who shunned the trappings of wealth, has died from a heart attack at the age of 62.
Mr Zapf was the founder and co-owner of Zapf Umzuge, one of the largest relocation companies in Europe.
He earned himself a legendary reputation for living well below his means, and was known for acts such as collecting returnable bottles at night.
Mr Zapf died on 20 August, his company announced on its website (in German).
Despite his vast wealth, he lived in a small flat and was paid just enough to cover his basic living costs, Germany's Der Spiegel newspaper reports.
He once said that he collected empty bottles on which there is a deposit to be reclaimed and only shopped at supermarkets with the lowest prices.
Moving kingpin
According to reports, he lived on less than 300 euros ( £240) a month.
"I don't need money. It just makes us unequal," he was quoted as saying.
German press reports describe him as being "deeply immersed" in the left scene during his student years, and names Rudi Dutschke - a prominent leader of Germany's socialist student movement in the late 1960s - as among his peers.
Mr Zapf founded his removals company in Berlin in 1975, after cutting his university studies short.
Klaus Zapf looked like a down-and-out, with a beard so thick you could hide a mouse in it, says the BBC's Stephen Evans, in Berlin.
But behind this ragged exterior lay a business empire, our correspondent says.
He came to West Berlin 45 years ago and laboured, humping furniture, which inspired him to set up his own company.
But Mr Zapf never got a driving licence, so he relied on others to drive the transit van while he did the heavy lifting and later moved into management.
When the Berlin Wall came down, he reportedly predicted that the capital would move from Bonn to Berlin, leading him to set up a depot there and get the lion's share of the moving business.
The company says it has some 600 employees and more than 60,000 customers per year at 14 different locations.
Mr Zapf, who married twice - most recently in June this year - leaves behind a daughter.