Albert Reynolds: Political tributes to Ireland's former prime minister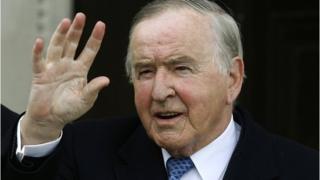 Political tributes have been paid to Albert Reynolds, the former prime minister in the Republic of Ireland, who has died.
Mr Reynolds played a key role in advancing the Northern Ireland peace process, including the 1994 IRA ceasefire.
---
Prime Minister David Cameron
"Sad to hear of death of Albert Reynolds.
"(His) partnership with Sir John Major led to '93 Downing St declaration: Landmark in Northern Ireland peace process."
---
Taoiseach Enda Kenny
"Albert Reynolds brought an energy and drive to the development of business and economic growth during his tenure in office as minister for industry and as minister for finance.
"As taoiseach, he played an important part in bringing together differing strands of political opinion in Northern Ireland and, as a consequence, made an important contribution to the development of the peace process which eventually led to the Good Friday Agreement."
---
Former taoiseach Bertie Ahern
"I am deeply saddened to learn today of the death of Albert Reynolds.
"He was not afraid to take political risks to further the path of reconciliation.
"The Downing Street Declaration paved the way for the IRA ceasefire and all the positives which have flowed from the peace process for people north and south.
"So much of this achievement has its roots in Albert's courage, perseverance and his commitment to democratic politics.
"When the definitive history of this period is written, his name deserves to stand tall."
---
Sir John Major, former prime minister
"His background of being prepared to do a deal to bring two sides together meant we could put aside those failed opportunities, put aside disagreements and the fierce arguments we had on some of those issues, and retain a good relationship and continue to work for a common goal.
"I have to tell you, in my experience in politics that isn't a virtue that every politician has, but Albert Reynolds did."
---
Bill Clinton, former US president
"I am saddened by the passing of former Prime Minister of Ireland Albert Reynolds, who worked hard and risked much as taoiseach to advance the Northern Ireland peace process.
"His leadership alongside British Prime Minister John Major was instrumental in laying the foundation for the Good Friday Agreement, and our world owes him a profound debt of gratitude.
"I will always be grateful for his encouragement, advice, and support in the peace process. I join with his wife, Kathleen, his children, his many friends, and the people of Ireland in mourning his loss."
---
Fianna Fáil leader Micheál Martin
"I think the key was the development of a very strong relationship, a personal relationship, with John Major.
"The trust that developed between the two of them, I think, was instrumental in bringing the British-Irish governmental approach to the issue.
"It was key also in terms of reaching out to the republican movement and the loyalist movement.
"He had the capacity and personality to develop that trust between people who before that would not have engaged with Fianna Fáil leaders or a taoiseach in the Republic."
---
Former SDLP leader John Hume
"I was deeply saddened to hear of the death of Albert Reynolds who gave outstanding public service to the people of Ireland.
"He had an unwavering commitment to peace on the island and his relationship with John Major was instrumental in securing the Downing Street Declaration in 1993.
"He demonstrated integrity, determination and great courage in his pursuit of peace at a time when it was so necessary."
---
Sinn Féin President Gerry Adams
"Albert acted on the north when it mattered.
"My thoughts are with Kathleen and all the Reynolds family.
"May he rest in peace."
---
Peter Robinson, Northern Ireland first minister
"While we were from different political traditions and did not share the same political outlook, Albert Reynolds undoubtedly contributed to helping find an exclusively peaceful way forward in Northern Ireland.
"I offer my sincere condolences to his family, friends and many colleagues in the Irish Republic."
---
Martin McGuinness, Northern Ireland deputy first minister
"Albert was a key player in bringing peace to this country.
"He recognised that dialogue and negotiation was the key to opening the door to peace, and had the courage and tenacity to see it through. In doing so he was instrumental to building a better future for us all."
---
Alliance Party leader David Ford
"History will record the important role Albert Reynolds played, along with John Major, in the early days of the peace process.
"His background and contacts across the border helped him see the potential of Northern Ireland and the benefits a peaceful future would provide. He took on his role of peacemaker with dignity. "
---
Ulster Unionist leader Mike Nesbitt
"To an extent Albert Reynolds and John Major are the forgotten men of the peace process.
"Certainly, in replacing Charles J Haughey as taoiseach, Albert Reynolds brought a new dynamic to Anglo-Irish relations, and made things possible, including the 1993 Downing Street Declaration."