Dublin's gangland crime problem 'getting worse'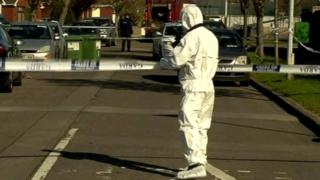 It is not uncommon for people in the Republic of Ireland to turn on their radios and television sets and to hear of another so-called gangland shooting or murder.
One of the more recent victims, Declan Smith, died at the end of March, a week after being shot in the face while dropping off his child at a crèche in north Dublin.
The dissident republican, originally from Belfast, was wanted for questioning by the PSNI about two murders.
He was also a close associate of former Real IRA leader Alan Ryan, who was murdered in Dublin two years ago.
'Mr Bigs'
Ryan had underworld connections, according to Irish Daily Star crime correspondent Michael O'Toole.
"Although he was not involved in drugs, he was taxing drug dealers, keeping a large percentage for his own pocket, but also sending an awful lot up north to the bosses in Northern Ireland," he said.
"We do know that elements in dissident republicanism are very close to drug dealers - some have been caught with drugs and some have been charged."
Dublin's north inner city has been ravaged by drugs for decades.
Anna Quigley, a former independent councillor and a social worker in the area where she lives, said that over the years she had noticed Dublin's gangs becoming more violent and numerous.
She said that, as has always been the case, there are the "small-fry criminals and the Mr Bigs".
"There are the people at a local level who get caught up in these gangs and these feuds, but the sense is these are not the people running the business," she said.
"The people who are really powerful are running it behind the scenes because they're in it for the money.
"We probably never hear of those because we don't know who they are and they're not going to appear in the media with nicknames or made-up names."
Newspapers often carry stories about alleged criminals with names like Fat Freddy and Dapper Don.
Not always based in Ireland, they and their ilk are said to control underworld empires worth hundreds of millions of euros.
Mr O'Toole said their wealth was not wholly dependent on drugs.
"Criminals are not philosophically tied to cocaine or heroin - they are philosophically tied to making money," he said.
"They will get involved in drugs, in smuggling tobacco and in diesel laundering - for them, the bottom line really is the bottom line."
When he emerged from prison last year, John Gilligan, once a 'Mr Big' who was acquitted of the murder of journalist Veronica Guerin, must have quickly realised how much the crime scene had changed.
Where once there were relatively few gangs, the authorities say there are now at least 25; the age profile has lowered and they are no respecters of past reputation.
Gilligan found this out when several attempts were made to murder him, not that he seemed to be worried. He told reporters that one attempt was a "Halloween prank that came too late" and that he had "no problem with anybody".
Many were shocked when the bodies of two Dublin men, Anthony Keegan and Eoin O'Connor, were discovered in May on an island in County Cavan.
It is believed they were murdered because of a relatively small drugs debt.
Ms Quigley said today's gangs were also a lot more ruthless than in the past.
"They are more violent and more capable of violence, and that level of fear and violence is there in the community," she said.
"It's much more likely now that people will say, 'I'm not going to get involved, I'm not going to go to a meeting, I'm not going to go on a march, I'm just going to keep my head down and get on with my own life'."
Many like her in Dublin's north inner city believe the state could do more in the fight against crime by tackling issues like drugs and poverty, while police say the relatively new motorways make it easier for Dublin's criminals to use the border as a refuge.
Such concerns suggest that the criminal underworld is a long way from anywhere near being defeated.