Woman denied abortion in the Republic of Ireland speaks out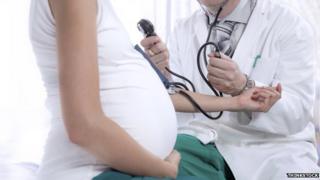 The woman who gave birth by Caesarean section after being refused an abortion in the Republic of Ireland has said she made an attempt to take her own life.
The young foreign national has spoken anonymously to an Irish newspaper.
She told the Irish Times she had been raped before she came to Ireland and found out she was pregnant during medical checks soon after her arrival.
She said she was eight weeks pregnant when she expressed a desire to die rather than bear her rapist's child.
'Asylum seeker'
Under new legislation which came into force in January this year, abortion is permitted in the Republic of Ireland on the grounds of a credible risk of suicide.
Another national newspaper, the Irish Independent, has reported that the woman is an asylum seeker who came to Ireland "to escape a conflict in her home country where she was raped".
It said she "received some form of medical treatment while she was in the direct provision centre for asylum seekers".
'Too late'
After speaking directly to the woman, the Irish Times has stated that 16 weeks into her pregnancy, she received counselling from a family planning organisation.
However, it said that when the counsellor told her the costs of travelling to Great Britain for an abortion, she went back to her accommodation and attempted to take her own life.
"In my culture it is a great shame to be pregnant if not married," the woman said.
The Irish Times reported that she went to see a GP in July, who referred her on to a hospital psychiatrist.
It said she was admitted to hospital "expressing suicidal ideation" when she was 24 weeks pregnant, but was told it was too late to have an abortion at that stage.
"They said the pregnancy was too far. It was going to have to be a Caesarean section," the woman told the paper.
"They said, wherever you go in the world, the United States, anywhere, at this point it has to be a Caesarean."
'Injustice'
A Caesarean section was performed at an Irish hospital earlier this month and the woman gave birth to a premature baby, who is expected to be taken into the care of the state.
"When I came to this country I thought I could forget suffering, she told the Irish Times.
"The scar [from the C-section] will never go away. It will always be a reminder. I still suffer. I don't know if what has happened to me is normal."
She added: "I just wanted justice to be done. For me, this is injustice."
The case is the first high-profile test of the Republic of Ireland's new abortion legislation and has caused concern among by pro-choice and anti-abortion campaigners.
The Irish Health Service Executive (HSE) has said it will carry out an internal review of the care provided to the woman.