German envoy to Turkey summoned over spying allegations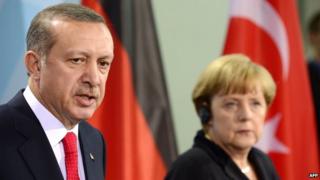 The Turkish foreign ministry has summoned the German ambassador over reports Germany spied on Turkish officials.
The German secret service, BND, had eavesdropped on conversations between officials in the US and Turkey, according to Der Spiegel.
The report also claims a document from 2009 showed that Germany identified Turkey as a prime surveillance target.
Turkey has demanded a "satisfactory explanation" from its Nato ally.
"I am of the opinion that this needs to be taken seriously," said Mehmet Ali Sahin of Turkey's ruling AK party.
"Definitely, our government and foreign ministry will carry out the necessary research about the allegations in the magazine."
The German foreign ministry said ambassador Eberhard Pohl's "discussion" with the Turkish foreign ministry "took place in a friendly atmosphere... to explain to the Turkish authorities what was published in the German media."
Germany has also been accused of eavesdropping on US Secretary of State John Kerry and his predecessor Hillary Clinton in 2012.
Only last month, Germany expelled the CIA's top official in Berlin after a German intelligence official was arrested on suspicion of spying for the US.
Chancellor Angela Merkel expressed outrage last year when fugitive US intelligence leaker Edward Snowden revealed that the US National Security Agency had spied on German citizens and tapped her phone.