Ukraine conflict: Under siege in Luhansk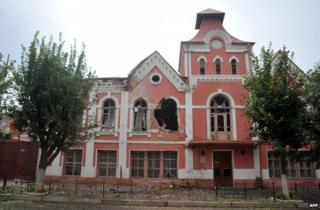 Russia's huge aid convoy for east Ukraine is believed to be destined primarily for Luhansk, a rebel-held industrial city under siege from government forces.
Whatever the questions over the Kremlin's intentions with regard to the convoy, there seems to be little doubt that civilians in Luhansk are in need of aid, much more so than in Donetsk, the biggest city still under rebel control.
Home to 425,000 people in peacetime, Luhansk has seen its population dwindle to 250,000, the city council says on its website, as people flee the fighting that has raged here since mid-April.
In its 13 August update on the situation (in Russian), the council paints a picture of desperation: a city into its eleventh day without running water, electricity and telecommunications, no longer supplied with food, medicine or fuel.
---
War in Ukraine: the human cost
Casualties: At least 2,086 people have been killed in the east since mid-April, including civilians, the military and members of the armed groups, the UN said on 13 August. Nearly 5,000 people have been confirmed wounded. Ukraine said on 11 August that 468 of its soldiers had been killed. The rebels have reported losing at least 800 fighters.
Refugees: Nearly 300,000 people have been forced from their homes this year. More than 117,000 are displaced inside Ukraine, 87% of them from the Donetsk and Luhansk regions, while a further 168,000 have crossed into Russia. Source: UN refugee agency
---
Most of the shops are closed although city bakeries still manage to bake bread. Salaries, pensions and welfare benefits are not being paid.
Damage to the bin lorry fleet means waste, too, is piling up in the streets, as Luhansk bakes in daytime temperatures well above 30C.
And amid the misery, the bombardment continues, the council quotes residents as saying.
Writing on 11 August from Shchastya, a government-controlled town 16km (10 miles) north of the city, Danish journalist Simon Kruse tweeted: "The thundering of artillery around Shchastya/Luhansk right now is more intense than anything I heard in Donetsk in past two weeks."
'Buried in gardens'
Occasionally, residents of Luhansk manage to post brief messages on social media, usually to assure families and friends they are still okay, Nastya, a Luhansk resident who now lives in Kharkiv outside the war zone, told BBC News.
When she spoke on Tuesday, she said she had not heard news of her father and some of her friends in the city for 10 days.
"Mobile and land line phone connections do not work," she added. "Some people, only sometimes, manage to call from some high points, if there is a signal.
"There is no electricity. My friends on Facebook who are still in the city get connected only sometimes for a short time to post they are okay."
Alex, a blogger who has friends in the city, told BBC News that he too could not contact his friends there. "All communications are dead," he said on Tuesday.
In Shchastya, Daily Telegraph correspondent Tom Parfitt Daily Telegraph correspondent Tom Parfitt met refugees from the conflict this week to hear about their life under siege.
They told him "how people in the city and close-by villages were being forced to bury the dead in yards and gardens because infrastructure had collapsed and it was too dangerous to travel".
"The shelling was almost non-stop for the last few days," said Irina, 43, who fled from the village of Krasny Yar, close to Luhansk.
"It's a nightmare. Only five out of 50 homes in my neighbourhood are undamaged. There are bodies lying in the street. My older son got knocked over and concussed by an explosion when he was carrying a man who got hit in the leg by shrapnel."
Strategic city
While the city is less than half the size of Donetsk, Luhansk is one of the main objectives of Ukraine's "anti-terrorist operation".
The rebels have used the city as a base to strike at Ukrainian forces on the nearby border with Russia.
It is unclear how the rebels are treating civilians in the city as they become increasingly desperate.
While the city was still open to the outside world, reports emerged of rebel fighters abducting dozens of people, beating and torturing some of them.