Germany motorway gunman appears in court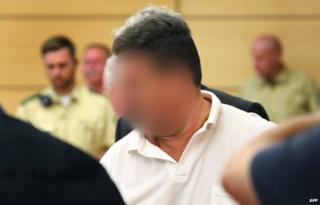 A man has appeared in court in the German city of Wuerzberg accused of firing more than 700 bullets at vehicles on motorways over five years.
The man, identified as Michael Harry K, 58, had talked of a "war on the autobahn", according to police.
He is accused of venting his anger at bad drivers in a spree that left one woman seriously wounded.
He faces five charges of attempted murder and a lengthy prison sentence if found guilty.
Among those targeted were a 40-year-old woman who was shot in the neck and seriously hurt in 2009, and two men who were injured by shattered glass.
Numerous cars and lorries were left with bullet holes in their sides.
The defence has rejected the charges of attempted murder. The suspect, described by prosecutors as a "frustrated loner", told police that he had aimed to shoot the vehicles and not their drivers.
The case was widely reported in Germany and police had warned that the man had to be caught before the attacks proved fatal.
They offered a reward of 100,000 euros (£85,000; $134,000) for evidence to help bring the gunman to justice, BBC Berlin correspondent Stephen Evans reports.
But they were unable to catch the man for five years, partly because drivers did not immediately realise their vehicles had been hit and partly because German data protection laws prevented investigators from using CCTV footage from motorway toll-booths.
They eventually set up their own motorway surveillance methods leading to the man's arrest.
He then led police to a stash of some 1,300 bullets and two guns.