Warning after dolphin 'aggressively pushed man underwater' off Irish coast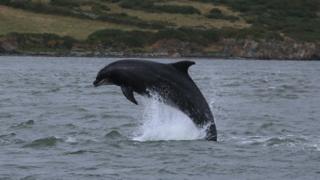 A bottlenose dolphin has "aggressively" pushed a man underwater off the County Cork coast, according to a report made to the Irish Whale and Dolphin Group.
The report stated that the dolphin attacked the man twice and "lashed out with its tail", during the incident off Sherkin Island about two weeks ago.
It prompted the IWDG to repeat warnings that swimmers should be extremely cautious if interacting with dolphins.
The dolphin, known as Clet, is a new visitor to Irish waters this year.
'Bit of a shock'
The adult bottlenose is believed to have originated in French waters, but has been sighted off the Cork coast throughout the summer.
The incident took place on 26 July and the IWDG's sightings log said: "We are aware of a report of an adult swimmer nearby in wetsuit and mask, from a yacht at anchor, being aggressively pushed underwater by the dolphin.
"They got a bit of a shock as a result."
After the latest sighting of Clet, the marine conservation group reminded the public that "bottlenose dolphins are not cute and cuddly".
"Do not confuse the shape of their jawline with a smile. They can and do cause serious injury to humans and have killed in the past," the IWDG said.
"So please, to those in west Cork who may find themselves in the company of this wonderful and wild mammal, enjoy it, but stay safe."
'Rough play'
The IWDG's sightings officer, Pádraig Whooley, told the BBC that dolphin attacks on humans were "nothing new" and added that his organisation has filled a lever-arch file with details of incidents in Irish waters over the past 20 years.
However, he said it was impossible to know whether a dolphin was intentionally attacking people or if it was just "rough play".
Last summer, two women were taken to hospital after they were badly hurt by a female bottlenose dolphin called Dusty off the coast of County Clare.
Mr Whooley said some were more friendly than others and pointed out that Ireland's best known dolphin, Fungie, had been interacting closely with humans off the Irish coast for more than 30 years, without a single adverse incident.
However, he said people should be aware that they are "taking their life in their hands" when they get into the water beside a 300kg (47st) animal.
Before visiting Irish shores, Clet had already gained something of a reputation with both French and British marine wildlife enthusiasts.
The IWDG website stated: "The evidence from those in the UK and France who are more familiar with this individual than we are here, is that "Clet" does not seek out humans to swim with, and we feel this says enough!"