WW1: Biggest replica trench in British Isles created in Cavan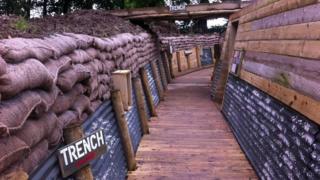 The largest outdoor replica World War One trench in the British Isles has been constructed by a museum in County Cavan in the Republic of Ireland.
It was created to mark the centenary of the outbreak of the war in 1914.
The 1,150ft long (350m) trench was built to the original specifications and manuals used by Irish soldiers who fought for Britain at the Somme.
It is estimated that more than 200,000 Irish-born soldiers served in the British Army and Navy during WW1.
Historians involved in the trench project at Cavan County Museum said they hoped that it will help people to rediscover the forgotten stories of Irish men who fought in the Great War.
Political turmoil in pre-partition Ireland meant that many Irish servicemen returned home to a very different country, which was openly hostile to British rule and those that wore the uniform.
Few Irish servicemen discussed their wartime experiences and their stories were largely airbrushed out of history in southern Ireland, as it moved towards independence.
'More acceptance'
"The First World War became something that people didn't want to talk about or didn't want to acknowledge," according to the historian, Dr Michael Finnegan.
"But at the moment there seems to be a slight change, in terms of, there's more acceptance of that fact that there are all sorts of stories from the period that haven't been told, and that deserve to be told," he said.
Savina Donohoe from Cavan County Museum said life in the trenches was very difficult and often "horrific".
She said the aim of the project was to give the public an insight into trench warfare and "enable them to learn about the experiences that those soldiers would have had".
It is thought that 10,000 men from Cavan served during WW1 and of that number about 1,000 were killed.
Those who survived and returned to the town did not receive a hero's welcome - many of their stories were ignored.
'Taboo subject'
One of those who lost his life on the Western Front was Cavan soldier Lance Corporal Hugh Murphy.
For 90 years, his descendants were unaware of his grave in France, but said they were now discovering more about him.
The soldier's niece, Rita Murphy Halpin, said: "It was a wage at that time, and that's why he went.
"It was a taboo subject for many years. In fact, Daddy talked very little," she added.