More Turkish police held over Erdogan wiretap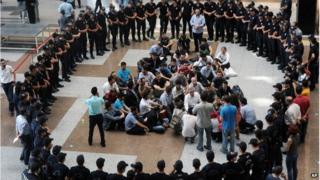 At least 25 police officers have been detained in Turkey on suspicion of illegal wiretapping.
The allegations involve police who were part of a corruption investigation that targeted PM Recep Tayyip Erdogan's inner circle.
The latest wave of raids on police comes days ahead of the country's first presidential elections, which opinion polls predict Mr Erdogan will win.
Last month, police detained more than 100 officers in similar raids.
Most of them were later released, but 31 were imprisoned pending trial for alleged illegal wiretaps and forging documents.
The corruption inquiry into those close to Mr Erdogan emerged last December and led to the sons of three ministers being detained and, ultimately, four ministers leaving their jobs.
The prime minister alleges the investigation was orchestrated by supporters of US-based Muslim cleric Fethullah Gulen, a former ally then rival in Turkey.
Earlier this year, Mr Gulen told the BBC that government allegations of his movement's involvement in the corruption inquiry were made "to frighten people about this non-existent phantom threat".