Dublin recycling plant body parts belong to one person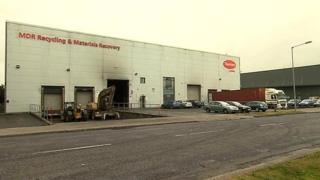 Irish police have said that DNA analysis has shown body parts found at a recycling plant in Dublin are male and belong to one person.
A lower leg was found at Thornton's Recycling Centre on Killeen Road on Thursday night, while a thigh up to the pelvis was discovered on Friday.
A number of other items, believed to be human flesh and bones, have been recovered in the search.
Police have said the person suffered a violent death.
They have launched a murder investigation and are trying to identify the dead man.
The age of the victim, his race or nationality and a cause of death have yet to be determined.
Searches are continuing at the facility.