Italy flash flood: Four people killed at festival near Venice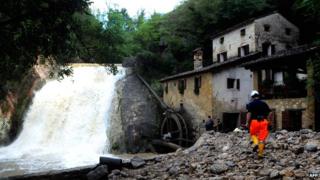 Four people have been killed and 20 others injured after a flash flood tore through a festival in northern Italy.
Reports from the scene talk of panic as a mud-filled torrent swept people away late on Saturday night at the festival at Refrontolo, north of Venice.
The event, by an old mill house beneath a waterfall, was meant to celebrate and promote the attractions of the area.
But during the festivities, there was a burst of very heavy rain and a wall of water suddenly ripped through the area.
According to the local media, some panic-stricken party-goers managed to cling to trees while the muddy torrent raged around them.
But others were swept to their death in the flood, which also carried away cars and tents.
The rescue operation went out throughout the night; divers are continuing to look for more victims.
Other villages in the area were also affected by landslides caused by the rain, reports say.