Putin warns Europe over 'aggression' century after WW1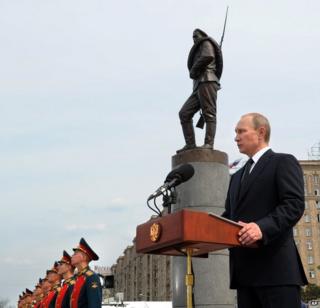 Russian President Vladimir Putin has warned Europe against aggressive and arrogant leaders, a century after the continent went to war.
Unveiling a monument in Moscow to Russian soldiers killed in World War One, he said it would be "good to remember" its lessons today.
The war resulted from "the aggression and egotism and overweening ambition" of leaders and elites, he said.
Mr Putin has been accused of aggression himself towards Ukraine.
World War One eventually brought down imperial Russia when Bolsheviks seized power in the 1917 communist revolution.