'N' plates for newly-qualified drivers in Ireland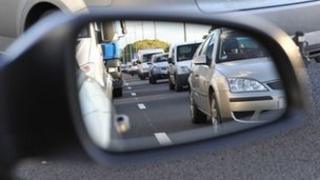 Newly-qualified drivers in the Republic of Ireland will have to display a 'novice' plate on their car from Friday.
Drivers will have to display an N plate for two years after passing their test.
The penalty points system will also be more stringent for novice drivers, with sanctions imposed at just over half the level for other drivers.
The permitted alcohol level for novices has been set at half the level for more experienced drivers.
Newly-qualified motorcyclists will have to wear a fluorescent 'N' vest.
The government said the measures were designed to protect the country's most vulnerable road users.
New arrangements for learner drivers are also being considered by the Northern Ireland Assembly in Belfast, which could include the introduction of a two-year N plate.