EU-US trade talks 'not open enough' - top watchdog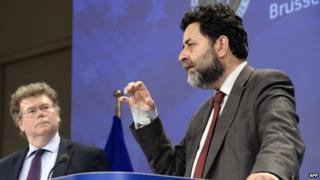 The European Ombudsman has urged EU institutions to release more information about EU-US negotiations aimed at reaching a free trade deal.
In a statement ombudsman Emily O'Reilly said "concerns" had been raised about key documents not being disclosed in the EU-US trade talks, known as TTIP.
The ombudsman acts as an independent watchdog responsible for holding EU institutions to account.
Some MEPs and lobby groups fear that big business is too powerful in TTIP.
The acronym stands for Transatlantic Trade and Investment Partnership.
Recently a US body, the Institute for Agriculture and Trade Policy, said leaked TTIP documents suggested that "public health and food safety could be at risk".
'Standards at risk'
Ms O'Reilly said EU institutions had made a "considerable effort" towards transparency, but they needed to go further.
She opened investigations into the European Commission and the EU Council - the grouping of 28 member state governments - whose talks with the US could eventually result in a major boost for Western economies.
"Civil society organisations have, however, raised concerns that the EU's high environmental, health, and consumer standards risk being lowered," she said.
There are also allegations that some stakeholders are getting privileged access to TTIP documents, she noted.
She has asked for responses from both institutions by the end of October.
Juncker warning
A key document she wants published is the 17-page EU negotiating mandate, explaining the scope of the TTIP talks. The sixth round of talks took place last month.
The incoming European Commission President, Jean-Claude Juncker, has also set greater TTIP transparency as a priority for the EU.
"I will also be very clear that I will not sacrifice Europe's safety, health, social and data protection standards on the altar of free trade," he said.
"Notably, the safety of the food we eat and the protection of Europeans' personal data will be non-negotiable for me as Commission president," Mr Juncker added.