Aer Lingus reports improved fortunes weeks after profit warning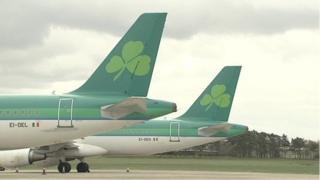 Aer Lingus has reported a "significant" improvement in operating profit over the last six months, which rose by 40% compared to the same period last year.
The Irish airline said it had made "good progress" in recovering bookings affected by a cabin crew strike in May.
Despite the strike costing 10m euros (£7.9m), the firm posted its best April to June operating profit since 2010.
As a result, it has revised its recent profit warning and now expects to at least match its 2013 operating profit.
'Revenue growth'
Last month, Aer Lingus issued a warning that its annual profits could be about 20% lower than expected due to the strike.
Cabin crews took part in a 24-hour stoppage on 30 May because of a dispute with the airline over working hours and rosters.
About 200 flights, due to carry 30,000 passengers, were affected by the industrial action.
However, in its half year results on Tuesday, the airline said: "Since providing guidance in June 2014, good progress has been achieved to recover bookings following the actual and threatened industrial disruptions in the first six months of 2014."
Aer Lingus reported "strong revenue growth of 6%" from January to June and saw its regional passengers numbers rise by more than a quarter (25.8%) over the same period.
The airline's statement added: "Based on recent trading trends, management once again expect that full year 2014 operating profit (before net exceptional items) will be at least in line with 2013."
Last year, Aer Lingus recorded an annual operating profit of 61m euros (£48m).