Former minister Ivor Callely jailed over fraud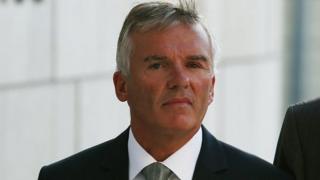 A former Irish junior minister has been jailed for five months for making fraudulent mobile phone expenses claims while he was a senator.
Ivor Callely, 56, had pleaded guilty to four counts of using invoices believing them to be false instruments between November 2007 and December 2009
He was a member of the Irish senate (Seanad) at the time.
On Monday, a judge ruled that Callely's position at the time was an aggravating factor.
She said that a prison term was demanded by the public interest.
Callely's barrister said his client was remorseful and was very much aware he had let himself down.
He said he wanted to apologise to his Dublin constituents, whom he had represented for many years.
During his trial, the court heard Callely used invoices from defunct businesses to claim phone expenses under an parliamentary scheme that allows members to claim 750 euros every 18 months.
After he became aware of the scheme in August 2007, shortly after being appointed a senator, Callely began submitting expenses claims at 18-month intervals.
He also submitted retrospective invoices from his time as a parliamentary representative (TD).
He fraudulently claimed a total of 4,207.45 euros (£3,330) using six invoices.
Callely resigned from the Fianna Fáil party in August 2010.