Koala named Timberwolf after Queensland car ride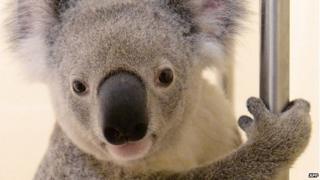 A koala in Australia has had a lucky escape surviving a 54.5 mile (88km) ride clinging to the bottom of a car.
Timberwolf the koala was said to have been hit by a car but managed to hang on as it drove down a busy highway.
The Australia Zoo hospital where he is recovering said he survived with no injuries except a broken nail.
Koalas are listed as "vulnerable" in Australia, and there are thought to be as few as 43,000 left in the wild.
Timberwolf, who was named by Australia Zoo staff after their football team, was believed to have been hit by the car near Maryborough in Queensland state on Friday.
'A truly remarkable story'
The family driving the car only realised they had a stowaway when they discovered him after stopping for petrol in Gympie, Queensland, on Friday.
Australia Zoo vet Claude Lacasse told the AFP news agency of his surprise that the koala was in such great health.
"It is absolutely amazing that he has such minor injuries and he survived," Mr Lacasse said. "It is a truly remarkable story, he is a very lucky koala."
The maximum allowed speed on the highway is 68mph (110km/h).
Timberwolf was given pain killers for his torn nail and is recovering at the Zoo which was set up by television personality and conservationist Steve Irwin, known around the world as the "Crocodile Hunter".
The zoo hospital treats around 70 koalas each month. More than half are injured from car accidents or domestic pet attacks.
Vets at the zoo are trying to work out where the koala was hit by the car in order to determine where best to release him back into the wild.
It is thought that more than 10 million koalas lived in Australia before British settlers arrived in 1788, and there are now as few as 43,000 remaining in the wild.