Ukraine crisis: More Russians face EU sanctions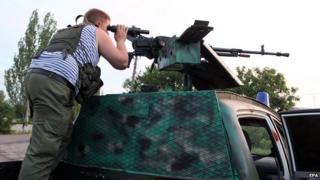 The EU has added 15 individuals and 18 entities to its sanctions list targeting Russians linked to the separatist uprising in eastern Ukraine.
The names have been published in the EU Official Journal.
They include the Federal Security Service (FSB) and foreign intelligence heads, and the president of Chechnya.
The number of Russians subject to EU asset freezes and travel bans is now 87. Two Crimea energy firms are joined on the list by 18 other entities.
Western leaders accuse Russia of arming the pro-Russian rebels in Ukraine.
The crash of a Malaysia Airlines jet in rebel-held eastern Ukraine a week ago - believed to have been caused by a rebel missile strike - fuelled calls for tougher EU action.
Russia has denied allegations by Ukraine and Western leaders that it has supplied heavy weapons to the rebels. And the rebels denied shooting down the airliner, instead blaming Ukrainian forces.
The EU says it is targeting those who "actively support or are benefiting from Russian decision makers responsible for the annexation of Crimea or the destabilisation of eastern Ukraine".
The latest additions include FSB head Alexander Bortnikov and the director of the SVR foreign intelligence service, Mikhail Fradkov.
Security Council Secretary Nikolai Patrushev, his deputy Rashid Nurgaliev and fellow member Sergey Gryzlov also appear, along with Chechen President Ramzan Kadyrov.
Several officials of the separatist self-declared republics in eastern Ukraine, as well as local officials in Crimea and neighbouring Russian regions complete the list.
The EU is also considering a range of technologies that could be restricted, in further measures against Russia.
Reuters news agency says EU Council President Herman Van Rompuy has sent a letter to EU leaders specifying that such measures should only affect the Russian oil sector, not gas, because of Europe's need for energy security.
Many EU countries rely heavily on imports of Russian gas.