Irish foreign minister explains UN Gaza vote abstention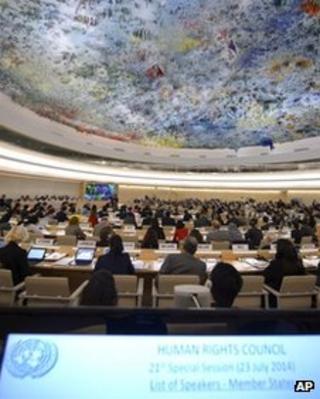 The Republic of Ireland abstained from a vote to hold an official investigation into alleged war crimes in Gaza because it wanted swifter action using existing mechanisms, its foreign minister has said.
The 46-member UN Human Rights Council backed the inquiry with 29 votes in favour.
There were 17 abstentions, mostly by EU members, while the US voted against.
Charlie Flanagan said there was no time to introduce new inquiries.
Israel Prime Minister Benjamin Netanyahu said the condemnation by the UN Human Rights Council was a "travesty of justice and fairness".
In the past 16 days of fighting, more than 750 Palestinians and 33 Israelis have been killed, officials say.
Fianna Fáil Senator Averil Power said Ireland's decision to abstain was "utterly shameful", while Sinn Féin President Gerry Adams accused the Irish government of "political cowardice".
Ireland's UN ambassador Patricia O'Brien said the country had abstained as an EU member, and had been a strong voice of condemnation in the council.
She told Irish state broadcaster RTE that a different approach was required that made "use of the existing mechanisms and available expertise".
"The ongoing situation is so grave that it requires urgent action," she said.
Ms O'Brien said there was also a "failure to adequately condemn the indiscriminate firing of rockets by Hamas against the civilian areas of Israel".
"We want to see a full reflection of our humanitarian concerns," she said.