Pro-Palestinian protest halts Maccabi Haifa match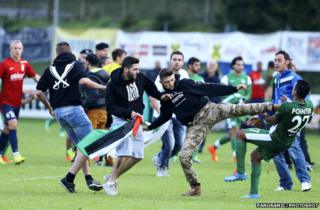 Pro-Palestinian protesters have disrupted a football match in Austria between the Israeli club Maccabi Haifa and French team Lille.
The pre-season friendly in Bischofshofen was stopped close to the final whistle when protesters waving Palestinian flags stormed the pitch.
It seems that no-one was seriously hurt in the incident.
Israel launched a military offensive on 8 July, with the declared objective of stopping rocket fire from Gaza.
At least 649 Palestinians and 32 Israeli soldiers, plus three Israeli civilians, have been killed in the past 15 days of fighting, officials say.
Separately on Wednesday, a court in France jailed three men for rioting after a pro-Palestinian rally in a mixed suburb of Paris degenerated into anti-Semitic violence.
French Prime Minister Manuel Valls condemned the violence, which erupted at a protest over Israel's actions in Gaza.