Loud Americans: Villagers answer cafe ban on visitors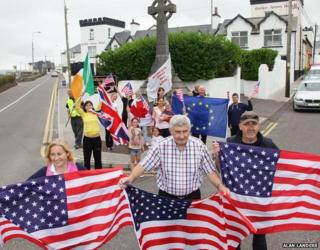 The business community in an Irish village has hit back at a cafe owner who has refused to serve "loud Americans".
Peter Fitzgerald of Waterville, County Kerry, annoyed villagers when he posted a notice in his cafe banning coach parties and loud Americans.
The story went viral on social media and was picked up by dozens of newspapers around the world.
The village, however, has assured all, loud or not, of a warm welcome.
Business people and residents took to the streets on Tuesday to send out a strong message to visitors.
Albert Walsh, chairman of Waterville Business Association, said: "What we want to do is reflect the real attitude to America.
"There is a loud welcome in Waterville for all loud American visitors and friends.
"We are proud of this friendship. One sign will not compromise our valued Waterville-American connection, which is over 100 years old.
"Ours would be the last place on the island that would be anti-American."
Louise Huggard, who runs the Butler Arms Hotel, said the village had been welcoming visitors to the nearby scenic Ring of Kerry "for centuries".
"All of our visitors talk about the sincere warm welcome they feel among us, from Charlie Chaplin to Tiger Woods to the late Payne Stewart who was honorary captain of Waterville golf links," she said.
"So, we have now decided as a village to be a bit louder about welcoming our visitors. especially our American visitors."
Mr Fitzgerald was not available to comment on the sign.