Dublin's homeless charity says demand for services up 25%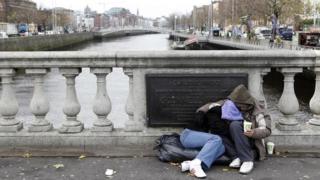 A charity that helps people who are homeless or at risk has said there has been a 25% increase in the numbers using its services.
Focus Ireland said it supported more than 10,000 people in 2013 compared to 8,000 in 2012.
The charity said it has already worked with more than 8,000 this year.
Focus Ireland's acting chief executive Mark Bryne described the situation as a growing crisis and said the government must invest in social housing.
"There was a sharp 25% increase in the number of people we supported last year as more people than ever were at risk of losing their home and the housing and homeless crisis deepened," he said in the charity's annual report.
Mr Byrne said the "rising demand" for its service was continuing.
"We have families coming to us every day who have lost their home and in many cases the best we can do is get them into a B&B or hotel so they are off the streets.
"This is not acceptable.
"The government has said we have reached the limits of austerity and I believe the growing homeless crisis proves this. There must be urgent investment in building social housing now.
"Focus Ireland has called for an investment of 500m euros [£395.17m] in the budget to provide at least 3,000 homes and also much needed jobs to help boost the economy."
The charity also called on the new Minister of Environment Alan Kelly and Minister of State (with special responsibility for housing) Paudie Coffey to ensure the government followed up on its pre-election commitment to tackle the housing and homelessness crisis.