Donetsk clashes hamper MH17 work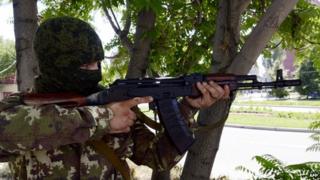 The BBC's Fergal Keane reports from Donetsk in east Ukraine amid concern that fighting between government forces and pro-Russian rebels could hamper the recovery of bodies from the downed Malaysia Airlines flight MH17.
The fighting poses an obvious question - with the world demanding security for air crash investigators, why did the government choose this moment to advance near the regional capital?
Concerns over the security of international teams could be increased by the latest fighting in Donetsk.
For three hours close to the railway station I watched as several hundred civilians fled past.
There was shelling throughout the morning, some from Grad rockets but also mortar fire and intermittent sniper shots.
Most of this seemed to be coming from the direction of villages on the road between the airport and the railway station.
It was impossible to be sure who was firing or in which direction. However, we saw the aftermath of a rocket strike in the playground of an apartment complex close to the station - a rebel controlled area.
Next to the crater lay a pool of blood, a man's shoes and a pair of glasses.
A witness, Yevgeny, who helped to remove the bodies, told us three people had been killed - two men and a woman.
There was a trail of blood on the stairs of the apartment building. An old man living there told us he supported a united Ukraine but he blamed the government for the attack.
"How can our president do this to us?" he asked.
A woman fleeing with her young daughter said she had seen the corpse of a woman lying in a yard. She began to cry as she described the scene.
"We just want to escape," she said.
Rebel reinforcements - including tanks and armoured personnel carriers - sped past.
The militia in our sector were nervous. I saw them beat one man who wasn't moving quickly enough out of the conflict zone.
Two others were taken prisoner - we couldn't establish why - and forced to sit by the side of the road.
"Is this what it is going to be like?" one asked.