Under-18s are banned from sunbeds in Republic of Ireland.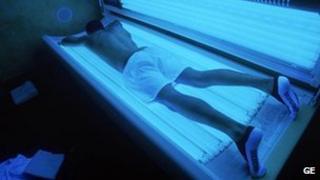 A ban on the use of sunbeds by people under the age of 18 has come into effect in the Republic of Ireland.
The Irish minister for health, Leo Varadkar, said it was an essential step in protecting children's health and an important preventative measure against skin cancer.
The ban will be enforced by the Health Service Executive.
Operators face a fine of 4,000 euros (£3,168) or up to six months in prison for a first offence.
About 150 Irish people die every year from melanoma and more than 850 new cases of melanoma are reported in the Republic of Ireland each year.
Skin cancer is the fastest growing cancer in Ireland, with more than 10,000 new cases annually.
A similar ban was introduced in Northern Ireland two years ago.
It stopped people under the age of 18 from using, hiring or buying sunbeds. The move followed an increase in the incidence of skin cancers.