Yvonne Murphy to head mother and baby homes' inquiry in Ireland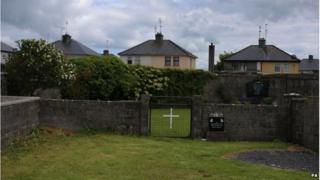 Judge Yvonne Murphy will chair an inquiry into church-run mother and baby homes in the Republic of Ireland, the government has announced.
The Commission of Investigation was set up after it emerged almost 800 children had died at a mother and baby home in Tuam, County Galway.
The children were buried in unmarked graves in the grounds of the Bon Secours home for unmarried mothers in Tuam, County Galway, from 1925 to 1961.
The grave was discovered 40 years ago.
However, recently a local historian drew attention to the very high death rate amongst children at the home.
Almost 80% of children died before their first birthday.
A number of the deaths came as a result of illnesses which are largely treatable today.
Announcing Judge Murphy's appointment, the Irish Minister for Children and Youth Affairs, James Reilly, said: "I am delighted that a widely respected person of the calibre of Judge Yvonne Murphy has agreed to head up this investigation.
"Judge Murphy has a very strong track record in effectively establishing the truth in relation to important and sensitive matters.
"The government may give consideration to the appointment of further members to the commission, but I believe Judge Murphy's agreement to undertake the role of chair of the commission is a very positive development in the process to establish an effective and independent investigation."
The mother and baby home in Tuam was run by nuns of the Bon Secours Sisters for 36 years.
The County Galway home was one of 10 institutions in which about 35,000 unmarried pregnant women - so-called fallen women - are thought to have been sent.
When the establishment of the commission was announced in June, Taoiseach (Irish prime minister) Enda Kenny said the inquiry would "probe the past rather than apportion blame".