French ex-National Front member jailed for chimpanzee image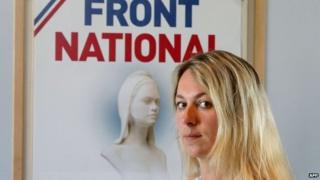 A former local election candidate for France's far-right National Front (FN) party has been jailed for inciting racial hatred.
Anne-Sophie Leclere will serve nine months in jail for posting an image showing black justice minister Christiane Taubira beside a chimpanzee.
The party said that the jail sentence was "grotesque".
Leclere was an FN candidate for the 2014 local elections in Ardennes before being dropped by the party.
In a session on Tuesday, the French court in Cayenne - capital of the overseas region of French Guiana in South America - also ordered Leclere to pay a 50,000-euro ($67,800; £40,000) fine for posting the image.
The case caused a storm in France a year ago when Leclere posted the image on her Facebook page whilst running for local elections in the northeastern Ardennes region.
The anti-EU, anti-immigration party expelled Leclere after the image was revealed on a TV show last October.
The FN also received a fine of 30,000 euros from the court in Cayenne. It said it would appeal against the fine.
Christiane Taubira, who was born in French Guiana, has spoken about her fears that racism is rife in France.
The National Front made huge gains in the 2014 European elections, with the party gaining 25% of the vote in France, more than any other party.