Italian religious procession sparks mafia row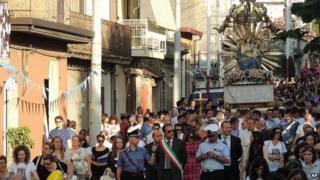 The Catholic bishop of a small diocese in southern Italy has suspended all church processions after a parade took a detour to salute a mafia boss who was under house arrest.
The mayor, police and priests had been among those following a statue of the Virgin Mary through the streets of Oppido Mamertina.
When the procession changed course, two policemen left and lodged a complaint.
It comes two weeks after Pope Francis condemned the mafia and its members.
The BBC's Alan Johnston in Rome says the incident in Oppido Mamertina seemed to fly in the face of Francis's powerful message.
Italy's interior minister described the episode as "deplorable and repulsive".
Oppido Mamertina is in Calabria which is the stronghold of the 'Ndrangheta crime syndicate.
The local archbishop said it was a pity the priests present did not have the courage to walk away from the procession - as the police officers had done - when it became clear what was going on.
'Adoration of evil'
Police said on Monday they were investigating possible collusion between the leaders of the procession and mob boss Giuseppe Mazzagatti, 82, who is serving a life sentence under house arrest for health reasons.
Prosecutors said they were looking at video footage taken during the event.
"Whoever made the Madonna bow has committed a double sin," Nunzio Galantino, head of the Italian episcopal conference, told the Corriere della Sera newspaper.
"It's absurd. The Madonna can bow to poverty, to those in need, in front of a sincere conversion, but not in subjugation to a delinquent."
In a Mass held in Calabria last month, Pope Francis described the 'Ndrangheta as the "adoration of evil".
Correspondents say the mafia has benefited in the past from historic ties to the Church, with many priests turning a blind eye to its crimes.
The 'Ndrangheta is one of the most powerful mafia organisations in Italy, along with the Sicilian Cosa Nostra and the Neapolitan Camorra.