Ukraine forces clash with separatists at Donetsk airport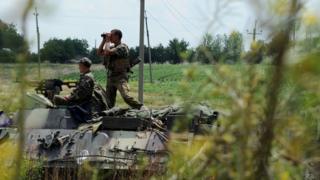 Ukrainian troops have clashed with pro-Russian separatists who were trying to capture Donetsk airport in the east.
The army has been gaining ground in its efforts to blockade the city, after rebel forces retreated there.
Meanwhile, Russian President Vladimir Putin has been urged by his French and German counterparts to help bring the separatists to the negotiating table.
Ukraine's military has made significant gains in recent days, recapturing the rebel stronghold of Sloviansk.
Since then, the rebels have been forced out of a string of eastern towns. The army said on Thursday it had also recaptured the town of Siversk.
Separatists declared independence in the two eastern regions of Donetsk and Luhansk after Russia annexed Crimea, another Ukrainian region, in March.
Rebels seized the airport to the north-west of Donetsk in May but Ukrainian forces recaptured it after a battle in which dozens of people died.
A military spokesman said the insurgents had fired mortar rounds at the airport on Thursday but the attack had failed.
Evacuation
In a statement, the interior ministry said that it had launched a military push "across several parts of the (Donetsk) front", reports AFP news agency.
The separatists' military leader, Igor Strelkov, vowed to defend the city and its suburbs and prevent it from being blockaded from the east and north-east. "We are counting on military support from the Luhansk republic in this respect, and we are confident that we have enough reserves to fulfil this task."
Meanwhile, there are reports of divisions forming between the rebel groups. The volunteer Vostok (East) battalion, commanded by Alexander Khodakovsky, said it was refusing to submit to the overall rebel command.
Since Igor Strelkov pulled rebel forces out of their stronghold in Sloviansk on Saturday, the pro-Russian militants have been regrouping, setting up extra checkpoints and stepping up police patrols around Donetsk, says the BBC's Steve Rosenberg, in the city.
Donetsk is bracing itself for war, with many of its shops and banks shut and people leaving town many fearing a human catastrophe if the Ukrainian army starts shelling, he adds.
Another leader of the self-declared Donetsk people's republic, Alexander Borodai, threatened a mass pull-out of civilians from the city, which has a population of more than one million.
"This will be hundreds of thousands of people. This is an inevitability we have to face, to avoid civilian casualties," he told reporters.
He said evacuation was necessary because the rebels had not received enough shipments of arms from Russia.
"Russia must be ready to receive several hundred thousand refugees," he said. However, he later indicated the evacuation would involve tens of thousands of civilians.
More than 1,000 people, both civilians and combatants, are believed to have been killed since the uprising began in April.