Synthetic cannabis 'not medicinal', EU top court says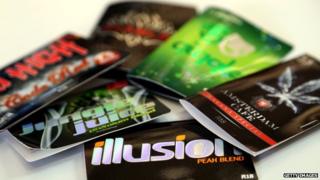 The EU's top court says designer drugs that mimic cannabis, which are already illegal in many countries, cannot be classed as medicinal.
If a drug is not "medicinal" then it can be sold until it is blacklisted.
Many new synthetic "legal highs" have appeared in recent years, making it hard for authorities to control them. Internet drug sales have boomed.
The case arose because two German vendors of such drugs were convicted for selling unsafe medicinal products.
One was jailed for four and a half years, the other given a suspended sentence. They could not have been prosecuted under anti-narcotics laws because at that time synthetic cannabinoids were not illegal.
The European Court of Justice (ECJ) was asked by Germany's Federal Court to clarify the classification of such drugs. The case now goes back to the German courts. ECJ rulings are binding across the European Union.
Classing a drug as "medicinal" means that it cannot be sold legally until it has undergone scientific trials - an authorisation process that usually takes years.
Studies show that synthetic cannabinoids are chemically different from the cannabis used in some medical therapies.
Nearly half the 50 US states have legalised medical cannabis - or marijuana - including for use by cancer patients.
Cannabis is an illegal class B drug in the UK, as is Spice - one of the brand names used for synthetic cannabis.
In their ruling, the judges in Luxembourg say synthetic cannabinoids generally cause intoxication and the effects can range from intense excitement to hallucinations, as well as nausea, heart-racing and disorientation.
The court says the term "medicinal product" cannot apply to "substances which simply have the effect of modifying physiological functions but are not such as to have any immediate or long-term beneficial effects on human health".
---
'Legal highs'
New substances which produce similar effects to illegal drugs (such as cocaine, cannabis and ecstasy) but that are not controlled under the UK's Misuse of Drugs Act
Not yet controlled because there is not enough research about them to base a decision on
Cannot be sold for human consumption, so are often sold as plant food or bath salts to get round the law
Just because they can be sold does not mean they are safe - you cannot be 100% sure what they will contain
Some have been linked to emergency hospital admissions and deaths
---