Garth Brooks Irish concerts: Injunction to be heard on Thursday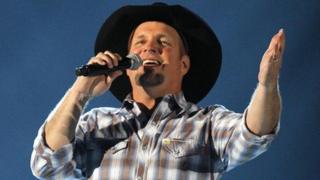 An injunction to prevent three Garth Brooks concerts from going ahead in Croke Park will be heard in the High Court in Dublin on Thursday.
A judge granted permission for the application from Brian Duff, a Croke Park area resident, to proceed after a hearing earlier.
A senior lawyer said he was seeking the injunction due to fears of anti-social behaviour associated with the concerts.
Brooks is due to play Croke Park on 25, 26 and 27 July.
The US star was also due to stage two extra shows on 28 and 29 July.
However, Dublin City Council said on Friday that only three concerts would go ahead and it could not reverse this.
Mr Duff's case against the three concerts was lodged in the High Court in Dublin on Monday.
'Limited access'
It is against Aiken Promotions (Ireland) Ltd, who organised the concerts, and Páirc an Chrócaigh Teoranta (Croke Park).
A lawyer for Mr Duff said he was a scaffolder who had lived in the Croke Park area all his life.
The lawyer added that Mr Duff would have limited access to his home and would be subjected to concert-goers "vomiting" and "urinating" on the street.
The court also heard that while Mr Duff had been involved with the Croke Park Streets Committee group, which is opposed to the concerts, he is taking the action in his own capacity.
About 400,000 fans have booked tickets for the five sold-out concerts.
Last week, after the council refused permission for two of the dates, Garth Brooks said on Thursday he would do "five shows or none at all".
The US singer compared having to choose between concert dates to being asked "to choose one child over another".
On Monday, Dublin City councillors backed calls to allow all five Garth Brooks concerts to go ahead.
An emergency motion was tabled by Sinn Féin, but councillors were told the previous decision to allow only three shows could not be reversed.
According to Garth Brook's official website, he will hold a press conference on Thursday 10 July.
It is speculated that he may speak about the recent concert disruptions.
Earlier, reports emerged that Peter Aiken, of Aiken Promotions, had flown to the US to speak with Brooks in person to reach a decision on the future of the concerts.
However, a representative for the company has denied the reports.