Orange Order to meet over protest action, Rossnowlagh parade told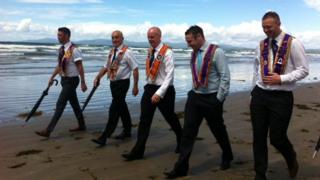 The Orange Order will hold an emergency meeting of all county and district grand masters in the coming days to decide on potential protest action.
It follows the Parades Commission's decision to bar an Orange Order march from returning along part of north Belfast's Crumlin Road on 12 July.
The order has said any action taken must be peaceful.
Grand Master Edward Stevenson was speaking at the annual parade in Rossnowlagh in County Donegal.
"There will be protests in various forms, but you don't always have to be on the streets to be protesting," he said.
"All protests should be free from violence and peaceful and lawful."
He invited Irish President Michael D Higgins to attend next year's parade in Rossnowlagh.
Commenting on the situation in Northern Ireland, Orange Grand Secretary Drew Nelson said there was a lot of anger and sadness among people.
He said there was a need for people to vent those frustrations in a peaceful and passive way.
"If we don't allow an opportunity for them to do that I fear an uncontrollable response could lead to violence," he said.
"We are totally opposed to violence and any illegal behaviour and we would appeal to people not to get involved in that."
Mr Nelson said any action taken by the order would be peaceful and passive but the form it would take was not finalised.
Thousands of Orangemen have been taking part in the Rossnowlagh parade.
Among those attending were members from around 50 lodges from Donegal, Cavan, Leitrim and Monaghan along with Orangemen from Dublin and Wicklow.
It is the first time that the Independent Orange Order is taking part in the annual event.
'Brilliant day out'
DUP MP Gregory Campbell was among those participating.
"Whilst I've attended Rossnowlagh before, this will be my first time to participate in the parade," he said.
"It's a brilliant day out for all the family and brings out so many positive attributes of the loyal orders."
Mr Campbell said he "looked forward to a day" when parades throughout Northern Ireland had the same level of "tolerance and respect" shown by all sides.
Many brethren from Northern Ireland also make the journey south to take part in the main parade which began at lunchtime.
Several bands accompanied the Orangemen as the main parade followed a narrow country road into the seaside village for a religious ceremony at the field.
The Orange Order has said it is in a healthy state in Donegal where the parade has been held since the 1900s.
There are currently 44 Orange halls in and around the border area and the loyal order has members in nine counties in the Republic.
It is a special year in Ballintra where the district Orange hall re-opened following major refurbishment.