Germany spying: US envoy summoned after arrest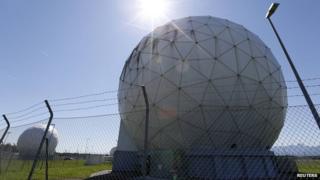 The German authorities have summoned the US ambassador in Berlin after a man was arrested on suspicion of spying.
The US diplomat "was asked to help in the swift clarification" of the case, the foreign ministry said.
German officials confirmed the arrest but released no other details.
US-German ties were strained after allegations last year that the US National Security Agency (NSA) bugged Chancellor Angela Merkel's phone as part of a huge surveillance programme.
The scale of the agency's global spy programme was revealed in documents leaked by a former intelligence contractor, Edward Snowden.
The BBC's Stephen Evans in Berlin says the new allegation of American spying on an ally may make it harder for the US to get German help in its efforts to oppose Russian activity in Ukraine, and also to control Iranian nuclear ambitions.
'Zero trust'
The man arrested on Wednesday is a 31-year-old German employee of the federal intelligence service, the BND or Bundesnachrichtendienst, federal prosecutors say.
He was held on suspicion of spying for foreign intelligence services. Prosecutors did not identify the suspect - or foreign services involved.
Media reports suggested the suspect - a man with a mid-level rank at the BND - had been spying for the US for a period of two years.
He was said to have been involved in the German parliamentary investigation into the activities of foreign intelligence agencies, including the NSA.
Originally, the reports said, he had been suspected of spying for Russia.
•US agencies accused of spying on leaders of Brazil and Mexico; Brazil's Dilma Rousseff cancels state visit, Mexico's Enrique Pena Nieto says US has promised an inquiry
•US allegedly runs bugging operations on EU mission in Washington and other European embassies; France objects, Germany cancels surveillance agreement with US and UK. Germany has begun an investigation into allegations that Chancellor Merkel's mobile phone was tapped.
•Le Monde claims NSA snooped on millions of phone calls in France; Paris complains to Washington
How the US spy scandal unravelled
A spokesman for Ms Merkel said she had been informed of the arrest, as had the members of the nine-strong parliamentary committee.
"The matter is serious, it is clear," spokesman Steffen Seibert told the Frankfurter Allgemeine newspaper.
"If because of this consequences must be taken, then they will be taken. But we are not yet at that stage," he told reporters.
Mrs Merkel was informed hours before she had a telephone conversation with US President Barack Obama about the crisis in Ukraine and Iran's nuclear programme.
There is no confirmation that the issue was raised.
Thomas Oppermann, parliamentary party leader of junior coalition partner Social Democrats, said: "If these espionage allegations are confirmed it would be an outrageous attack on the freedom of our parliament and against our democratic institutions overall."
There was no justification whatsoever and he expected Germany's attorney-general to investigate and for the "necessary consequences" to be taken.
The parliamentary committee co-chair, Social Democrat MP Christian Flisek, said if the suspicion of a targeted attack on a German constitutional body was confirmed "that would set the level of trust back to zero and result in political consequences," the Wall Street Journal reported.
Ms Merkel has proposed establishing a European communications network to avoid emails and other data automatically passing through the US.
Visiting the US in May, she said there were "differences of opinion" between Germany and the US over the use of intelligence services.
President Obama said at the time he was "pained" to see "strains in the relationship" created by the disclosures.