Garth Brooks: Cavan gaelic club offers an alternative venue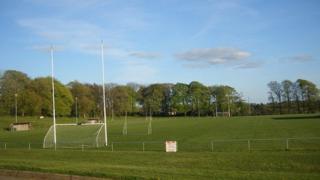 There is a green field in the Republic of Ireland with Garth Brooks' name on it.
A gaelic football club in County Cavan has offered the big US country star an alternative venue in a patch of their home county.
"Come and play for Killinkere," they said, after plans for two of his Dublin concerts fell through.
The Cavan club is out to shower him with kindness.
There will be fields aplenty for parking because it will be just after the second cut of silage and the club would come to some agreement over the number of raffles during the show, they said.
"If it can't be Croke Park, why not Killinkere?" said the Killinkere's public relations officer Mark Farrelly who extended the invitation in an open letter on Twitter.
Brooks is supposed to play five concerts at Croke Park in Dublin at the end of July, but he ran into difficulties after he was told there was a licence for just three of them.
Residents living close to the stadium had complained about the disruption caused by such events.
Thousands of fans could be disappointed if he does not show.
So Mr Farrelly penned a tongue-in-cheek letter, he wrote: "Our facilities have been upgraded no end in recent years and we have recently built a new stand and installed a toilet.
"There's ample parking as it will coincide with the second cut of silage and there'll be fields aplenty to abandon cars in.
"Support acts could be provided and the number of raffles held during the gig would be negotiable," he wrote.
His joke was taken up on Twitter and raised plenty of smiles. Although some people thought he was serious.
"Killinkere is between Baillieboro and Virginia. It is a big rural area - he would have no problem with residents around here because there are none," said Mark.
The toilet beside the stand would also be convenient for Garth in between zip wiring onto the stage.
"People can see you going in there as it is right beside the stand, but it is good and private inside," he pointed out.
Sadly, he said, although Twitter has lit up with banter, the star himself has not come forward with a reply... maybe he's just mulling it over 'til tomorrow - if that ever comes.