Dutch Black Pete is 'negative stereotype' - court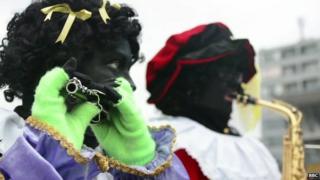 Black Pete, the traditional sidekick to the Dutch St Nicholas is a "negative stereotype of black people", a court in Amsterdam has ruled.
It said the capital must review the character's involvement in the annual festivities in November-December.
The Dutch version of the St Nicholas legend has him and armies of Black Petes arriving by steamboat from Spain.
Previous calls to ban Black Petes - with their blackened faces, red lips and Afro wigs - have caused outrage.
On Thursday, Amsterdam's regional court said the "image of Black Pete with his thick red lips, being a stupid servant, gives rise to a negative stereotyping of black people".
It said "many black Amsterdammers felt discriminated against".
The court added that the mayor now had six weeks to review the traditional festival - one of the biggest dates on the Dutch calendar.
Supporters of the ban say Black Pete (or Zwarte Piet) is a racist throwback to the times when black people were enslaved by the Dutch in the country's overseas colonies.
Last year, hundreds of people staged a protest in Amsterdam. The issue has even sparked an investigation by a United Nations advisory panel.
But many ordinary people argue that Black Pete is a just a harmless prankster and a key figure on annual celebrations on 5 December - when the festivities conclude with a night of gift giving across the country.